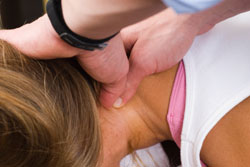 | | | |
| --- | --- | --- |
| | I booked into see Jon for knee, back and shoulder problems due to falls out running, years of horse riding and above all bad posture! Jon provides excellent treatment in a calm, friendly and professional manner. His diagnosis is always first class and you notice immediate improvement, his manipulation is controlled yet painless and he is very clear in establishing goals. I have recommended Jon to many friends and will continue to do so | |
| | | |
Physiotherapy, Physio, Physical Therapy
Physiotherapy is a science based healthcare profession. Physiotherapists treat injuries and disease by enhancing the body's own natural healing mechanisms to regain normal function more rapidly. We use physical approaches to promote, maintain and restore physical, psychological and social well-being whilst taking into account an individuals health status
Physiotherapy can help with pain relief, healing and rehabilitation of bone, muscle, nerve, joint and ligament injuries.
Here at the Holme Valley Sports Injury Clinic we are happy to help you if your injury is new or if you have been suffering with a problem for a long time.
How We Treat
Advice and Information
Self management is a very important part of your treatment. The more information you have about your injury the better equipped you are for managing it!
Joint and spinal mobilisation and manipulation
To restore movement and reduce discomfort
Soft tissue massage, myofascial release, trigger point therapy.
This can help reduce any scaring and swelling in the soft tissues, reducing discomfort and making sure the soft tissues heal optimally.
Home Exercises / Movement Patterning
What you do on a day to day basis will have a huge impact on your symptoms. We'll make sure you're not doing activities that are going to irritate and further aggravate your problem – This might include advising you with and helping you into a better posture or looking at your daily activities / working environment.
Correcting muscle imbalances / Restoring Normal Movement / Improving Core Stability
This relates to faulty movement patterning. It's really important that you use your muscles and joints appropriately , we spend time assessing that, then give you a home exercise programme that addresses any problems with weak and tight muscles and stiff joints.
Electrotherapy
Electrotherapy including ultrasound and interferential may be used to speed up the inflammatory process to promote healing. It's particularly useful in the acute stage of an injury.
Acupuncture
If you would like to enquire about treatment please call us on 01484 541227, or email us to tell us a little bit more about your injuries.